@

It has been fifty years since the tragedy of Hiroshima and Nagasaki.
What has happened during this first half-century of the Nuclear Age?

What lies hidden beneath the surface of the nuclear cycle, that nuclear nightmare including everything from uranium mining to nuclear weapons development and nuclear power plants.....

The idea for this unique collection of photographs came from the desire of hibakusha (nuclear survivors) the world over to tell their stories and leave their evidence for the next generations.
The idea was transformed into reality by the work of the peace movement in Japan.
It is an epic example of humanism at work. For the abolition of nuclear weapons! For the future of this beautiful earth!
@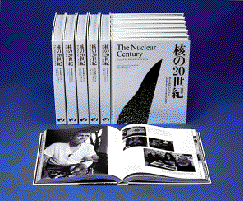 A collection of 339 photographs taken by 37 photographers from around the world.
Japanese/English bilingual edition
A4 size, 356 pages.
Special distribution price:13,000yen (add 1,000yen for packaging and shipping)
@